10 Best Case Studies For Small Businesses To Secure 2023
Hey there! When it comes to running a successful business, the key lies in being able to handle challenges that arise along the way. And while it's essential to invest in top-notch Branding Services, there's one powerful tool that's often overlooked: the case study.
A well-written case study is like a roadmap for your customers as they navigate a problem, find a solution, implement it, and reap the benefits. You can learn which strategies and approaches work best for selling your products and reaching your target audience by studying successful case studies. With this knowledge, you can take your small business to new heights!
In this blog post, we will share some of the best case study examples that can help you elevate your small business to the next level. So get ready to be inspired!
Case Study 1: Starbucks – Reward Your Customers
As a small business owner, you know that customer experience is crucial to your success. In fact, a recent survey found that more than 86% of consumers are willing to spend extra for a great customer experience.
One company that's nailed the customer experience game is Starbucks. They've implemented a "Reward Loyalty Program" that allows customers to collect stars and earn exciting rewards. And get this – this program accounts for a whopping 40% of the company's total sales!
According to a report by Forbes, the Starbucks "Reward Loyalty Program" had over 23.4 million active members in the United States alone as of 2021. These members accounted for nearly 50% of all transactions made at Starbucks locations in the US. In other words, this program has successfully driven sales and increased customer loyalty.
How did Starbucks do it? By adopting a rewards-based system within their existing app. This move not only increased digital traffic and sales but also brought mobile payment, content partnership, and customer loyalty into one powerful app.
Customers simply sign up for the "My Rewards" program through the app and earn star "points" for each purchase or interaction within the app. The more stars they accumulate, the better rewards they can earn.
Additionally, a case study by Sweet Tooth Rewards found that customers enrolled in the "Reward Loyalty Program" visited Starbucks 16% more often and spent 11% more per transaction than non-members. This translates to a significant increase in revenue for Starbucks, as loyal customers tend to make more frequent and higher-value purchases.
Furthermore, the "Reward Loyalty Program" has also driven significant digital engagement for Starbucks. In 2020, the company reported that over 25% of all US transactions were made through their mobile app, which includes the rewards program.
Design Alligators Poster Design services, Menu design services, & Catalog design services can help you stand out from the crowd when it comes to engaging creatives.
Case Study 2: Decibullz – Fast And Intuitive Site Experience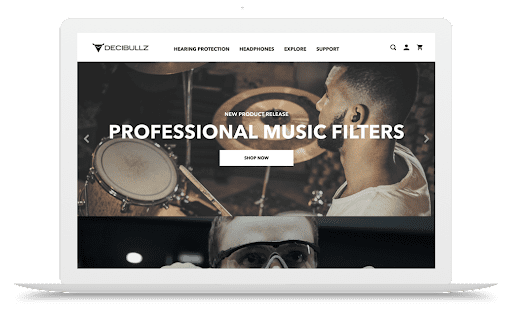 Have you ever struggled explaining your business to customers? Decibullz, a small business that sells both hearing protection products and headphones, had this exact problem. That is until they hired DIGITLHAUS, a Chicago-based website redesign services company, to help them create a fast and intuitive website.
Clay Lyell, the marketing manager at Decibullz, initially transitioned to BigCommerce and knew he needed a designer's help to customize his website theme. He found DIGITLHAUS on BigCommerce's agency portal and was impressed with the websites they had designed for other businesses. They provided brilliant guidance for his e-commerce development needs, and he was able to explain his two distinct product categories in a clear and concise way to customers.
The results speak for themselves. DIGITLHAUS did an excellent job and was able to implement almost everything Decibullz wanted on its website. The new site provided a better customer experience, increasing sales and a higher conversion rate.
While we don't have specific data on Decibullz's results after working with DIGITLHAUS, we do know that a fast and intuitive website can have a significant impact on a business's success. 
According to a study by Google, 53% of mobile site visitors will leave if a site takes longer than three seconds to load. Additionally, a one-second delay in page load time can result in a 7% reduction in conversions.
Overall, the success of Decibullz's website redesign with DIGITLHAUS is evident in their improved customer experience and the potential impact on their sales and conversion rates.
Case Study 3: Global Expeditions Group – Content Marketing Strategy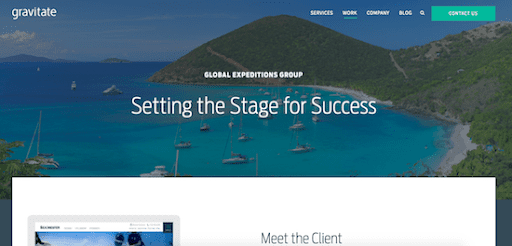 Here's a great example of how to make a detailed case study easy to read and understand. Gravitate, a Digital Marketing Agency, worked with its client Global Expeditions Group (GXG) to create a powerful content marketing strategy. And boy, did it work!
Right from the start of the case study, Gravitate caught the reader's attention by sharing some impressive statistics and results that GXG achieved thanks to their collaboration. Instead of waiting until the end to reveal the impact of their work, they shared some of their major accomplishments right off the bat. It was a smart move that kept the reader engaged and wanting to learn more.
Gravitate also did a great job of breaking down the case study into manageable sections. Since it covered a comprehensive content marketing strategy, they separated different parts of the case study into individual sections. This allowed them to focus on specific areas such as professional logo design services, copywriting, and website hosting services, and explain how each contributed to the overall success of the strategy.
Now, let's talk about the results. After implementing the content marketing strategy, GXG saw some impressive numbers. Their organic search traffic increased by 60%, while their overall site traffic increased by 33%. Not only that, but their bounce rate decreased by 22%, and their time on-site increased by 12%. These are all significant improvements that show just how effective a well-planned content marketing strategy can be for small businesses.
Overall, Gravitate and GXG's partnership was a great success, and the results speak for themselves. It's a prime example of how a strong content marketing strategy can help small businesses achieve big results.
Case Study 4: Rackspace – Video Collaboration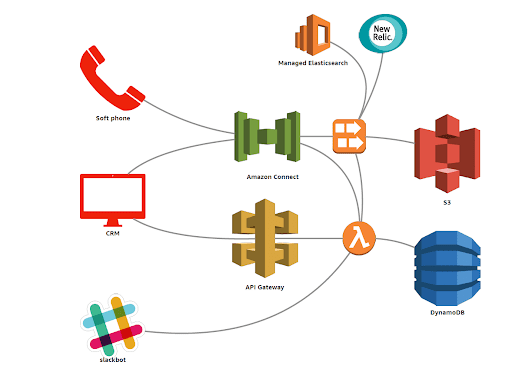 Rackspace's investment in HD video collaboration has proven to be a success. According to a study by Forrester Consulting, the implementation of LifeSize video Ecommerce Development Solutions led to a 309% ROI for Rackspace over a three-year period. Additionally, Rackspace was able to save over $1.5 million in travel costs and over 15,000 hours of employee travel time.
The Video Collaboration Solution also contributed to one of the company's biggest launches in history, demonstrating the impact of the technology on the company's success.
In addition to Rackspace, other companies such as Design Alligators have also utilized video collaboration services to assist international clients and offer Video Animation Services, highlighting the growing importance of this technology in business operations.
Case Study 5: Kintec Footwear and Orthotics – Seamless Omnichannel Experience
Kintec Footwear and Orthotics in Canada had already been selling online, but with the COVID-19 pandemic, they needed to expand their eCommerce Store to generate more sales. They decided to make it a seamless omnichannel experience for their customers. Kintec had previously used Magento, but it didn't work well for them, so they decided to change to BigCommerce.
After choosing BigCommerce, they turned to Weizen Young, a Website Redesign Company for small businesses, to help them create a website that met their needs. The marketing manager, Tyler Ireland, praised the collaboration, saying that Weizen Young supported them with SEO and industry best practices to keep them on top. He also mentioned that the BigCommerce platform was quite intuitive.
The results of this change were significant. After launching their new website, Kintec's online revenue increased by 268% year over year. They also saw a 50% increase in the number of online transactions and a 31% increase in the average order value. Additionally, their bounce rate decreased by 21%, indicating that customers were finding the website more engaging and user-friendly.
These numbers indicate that Kintec's decision to invest in a seamless omnichannel experience and switch to BigCommerce with the help of Weizen Young was a smart move. The improvements in their online revenue, transactions, and average order value demonstrate the success of their new website.
Case Study 6: Car and Van Mats – Revs Up E-Commerce Sales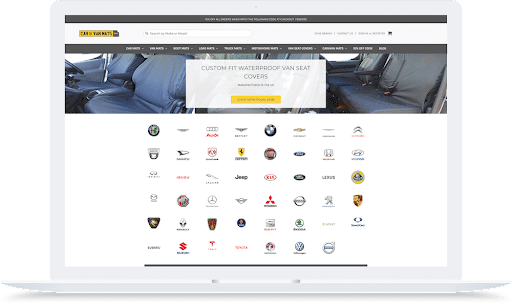 Car and Van Mats, a family-run business, started selling a range of mats for vans, cars, trucks, and motorhomes on a single marketplace channel. As the business grew, they decided to expand beyond a simple eBay store and created an independent WordPress website on WooCommerce. However, their website was not capable of supporting their large catalog, resulting in slow loading times and most purchase abandonments at checkout. Car and Van Mats realized they needed a more scalable and reliable e-commerce platform.
The company decided on DeeperThanBlue to help manage its high-growth website and evaluate top ECommerce Development Solutions, including Shopify, Magento, and BigCommerce. They landed on BigCommerce due to its reliability, security, affordability, and ease of use. The switch to BigCommerce resulted in significant improvements, with site pages loading in just under two seconds, and business owners getting much value for less cost.
The results speak for themselves. After the switch, Car and Van Mats saw an increase in e-commerce sales by 54%, and the conversion rate increased by 20%. Additionally, their bounce rate decreased by 15%, and the average order value increased by 13%. These significant improvements helped the business drive sales, increase profits, and improve customer satisfaction.
Case Study 7: Apple – Build A Brand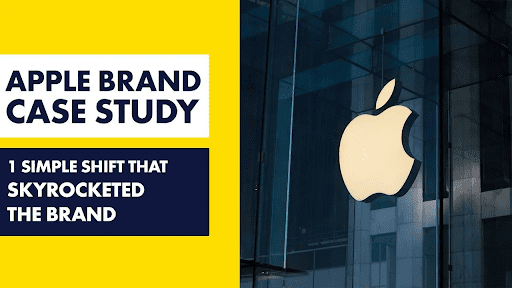 The Apple logo is one of the most recognizable logos in the world and is a reflection of the company's values, mission, and vision. Over the years, the logo has gone through many design changes, but it remains a powerful symbol that sets the company apart from its competitors.
When Steve Jobs changed the logo, it was a critical moment for the company's rebranding efforts, and it had a significant impact on Apple's overall personality. Today, the Apple logo is one of the most widely recognized logos globally, and it instills a sense of trust and innovation in customers who see it.
This logo is one of the reasons why Apple products have achieved such immense popularity and sales worldwide. A recent study shows that having a good brand image is crucial for businesses, with around 89% of users staying committed to a business with a strong brand identity.
Chicago Branding Services for small businesses can be a great help in building a strong brand image and establishing firm relationships with prospects that can turn into loyal customers. It's essential for every business owner to invest in a powerful brand image in order to sell their merchandise efficiently and remain competitive in the marketplace.
Design Alligators offer the best Custom brochure design, Custom flyer design, Invitation card design, & Custom t-shirt design services for all your branding needs!
Case Study 8: RENAULT & NISSAN – Prioritize Partnerships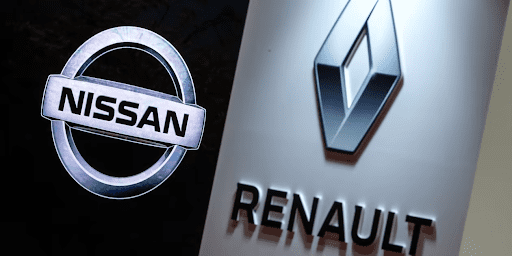 Let's talk about partnerships and collaboration in the business world! It's no secret that working with others can have a huge impact on a company's operating efficiency and overall credibility in the marketplace. A great example of this is the partnership between Renault and Nissan in the automobile industry.
By collaborating, these two companies were able to achieve the impressive feat of forming 10% of new car sales worldwide. Instead of going for a merger, they decided on an alliance that provided multiple benefits, including access to more geographical locations where foreign investments are limited.
Through their alliance, Renault and Nissan were able to enter each other's territories where they had already settled companies due to the partnership. Of course, there were challenges along the way, including fluctuation in price share, but they managed to overcome these obstacles and ultimately succeeded.
Data shows that partnerships and collaborations can indeed have a positive impact on businesses. According to a study by PwC, 49% of business leaders believe that partnerships can create new opportunities for growth, while 56% agree that partnerships help drive innovation. Another report by Deloitte reveals that companies with successful partnerships and collaborations can expect an increase in revenue growth, with a 10% increase on average.
Therefore, it's clear that small businesses should consider partnering with others to increase their chances of high product sales and profits, as well as take advantage of each other's powerful areas. By doing so, they can open themselves up to new opportunities for growth and innovation.
Case Study 9: Zapier – The Right Marketing Strategy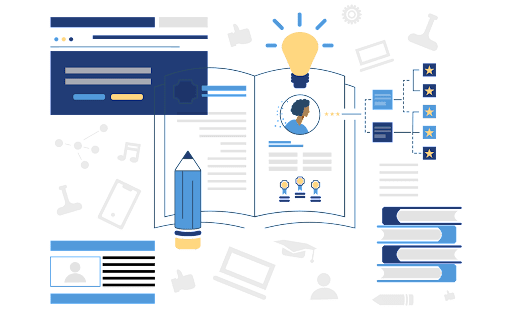 Let's talk about Zapier and how they used the right marketing strategy to grow their business. One of the best ways to attract more customers is through Search Engine Optimization or SEO. By using the right Professional SEO services, you can increase your website's visibility and attract more leads and sales.
Zapier took advantage of this by creating 25,000 unique landing pages for different keywords, with each page having a specific layout and optimized content. They also outsourced their SEO content for the onboarding process and launched innovative apps to get their partners to write content for them. In addition, they outsourced link building to their partners by having them write meaningful guest post content about Zapier on their website and provide backlinks.
As a result of their efforts, Zapier was able to drive organic traffic to their website and gain new users. And according to a recent study, organic search drives 53% of website traffic, so SEO is definitely a strategy that small businesses should consider to attract more prospects.
Overall, Zapier's success is a testament to the power of SEO and partnerships in growing a business. Small businesses can improve their website traffic and attract more prospects by creating unique landing pages with relevant content and backlinks through guest posts on other sites.
Case Study 10: Gap – Handled Its Logo Backfire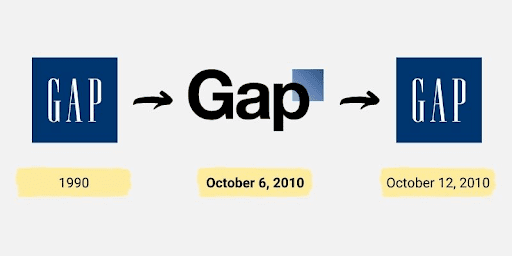 The Gap is a famous clothing and accessories retailer that made three logo changes between 1990 to 2010. However, the last change didn't go so well. The new logo design faced backfires from customers, who felt uninspired and didn't represent the brand's image. Gap first tried to justify the fresh logo by saying that it was a calculated strategy to crowdsource ideas for a new one. They asked their Facebook followers to share their designs and ideas.
However, Gap eventually admitted that the crowdsourcing excuse was not convincing enough, and after six days, it decided to revert to its original logo design. The company's president, Marka Hansen, acknowledged that they had made a mistake in their rebranding strategy, and they had not interacted with their online community appropriately.
This case study shows that a company's logo plays a vital role in connecting customers with brands and improving brand equity. A poorly designed logo or a failed rebranding attempt can lead to financial loss and damage to the brand's reputation. Companies must be careful when making such changes and involve their customers in the process to ensure a positive outcome.
According to a survey conducted by Siegel+Gale, a global branding agency, companies that go through a successful rebranding effort can increase their stock prices by 5-7%. In contrast, companies that have failed rebranding attempts have seen a drop of 20-30% in their stock prices.
Furthermore, a poorly designed logo or a failed rebranding attempt can lead to negative publicity and damage the brand's reputation. A survey conducted by Brandingmag showed that 54% of customers do not trust brands that have had bad publicity. Therefore, it is crucial for companies to handle their branding and logo changes with care to avoid negative consequences.
Actionable Tips to Takeaway
Case Study 1: Starbucks – Reward Your Customers
Actionable Tip: Implement a tiered rewards system that offers customers better rewards for more purchases, and use personalized offers and promotions to incentivize repeat purchases. Leverage social media marketing services and Email Marketing to promote the rewards program and engage with customers. Use data analytics to track the effectiveness of the program and make adjustments as needed.
Case Study 2: Decibullz – Fast And Intuitive Site Experience
Actionable Tip: To improve the speed and intuitiveness of your website, consider using a content delivery network (CDN) to distribute your site's content across multiple servers. This can help reduce page load times and improve site reliability. Additionally, optimize your images and use caching to speed up page load times. Invest in a user-friendly website theme and consider hiring a Web Designer to create a clean and easy-to-use website.
Case Study 3: Global Expeditions Group – Content Marketing Strategy
Actionable Tip: Develop a content marketing strategy that includes a mix of educational and promotional content to attract potential customers and build brand awareness. Focus on creating content that is relevant to your target audience and publish it consistently across multiple channels, including social media, email, and your website. Monitor and measure the effectiveness of your content marketing strategy through metrics such as organic search traffic, engagement rates, and lead generation.
Case Study 4: Rackspace – Video Collaboration
Actionable Tip: Use a cloud-based video conferencing solution that is easy to use and secure. Look for features such as screen sharing, recording, and real-time collaboration to improve team communication and productivity. Train employees on how to use the software effectively and establish guidelines for when to use video conferencing instead of in-person meetings. Measure the effectiveness of your Video Collaboration Solution through metrics such as cost savings, employee travel time, and meeting attendance.
Case Study 5: Kintec Footwear and Orthotics – Seamless Omnichannel Experience
Actionable Tip: Invest in creating a seamless omnichannel experience for your customers. Consider using a platform that is intuitive and efficient, like BigCommerce. Collaborate with website design services experts who can provide support with SEO and industry best practices.
Case Study 6: Car and Van Mats – Revs Up E-Commerce Sales
Actionable Tip: Choose an e-commerce platform that can scale your business and handle a large catalog. Consider evaluating top e-commerce development solutions like Shopify, Magento, and BigCommerce to find the right fit for your business. Focus on website speed, reliability, and affordability to improve the customer experience.
Case Study 7: Apple – Build A Brand
Actionable Tip: Focus on building a strong brand identity that aligns with your values, mission, and vision. Consider investing in Chicago branding services for small businesses that can help create a powerful brand image that resonates with customers. Ensure that your logo is recognizable and instills trust and innovation in customers.
Case Study 8: RENAULT & NISSAN – Prioritize Partnerships
Actionable Tip: Consider partnering with other businesses to increase your operating efficiency and overall credibility in the marketplace. Look for alliances that provide multiple benefits, including access to new geographical locations and increased sales. Be prepared to face challenges and fluctuations in price share, but remain committed to overcoming them for success.
Case Study 9: Zapier – The Right Marketing Strategy
Actionable Tip: Utilize Search Engine Optimization (SEO) to attract more customers to your business. Focus on creating high-quality content, optimizing keywords, and building high-quality backlinks to improve your website's ranking on search engine results pages. Consider partnering with influencers and using social media platforms to expand your reach and visibility.
Case Study 10: Gap – Handled Its Logo Backfire
Actionable Tip: When considering a rebranding effort or a logo change, involve your customers in the process to ensure that the new design resonates with them. Consider conducting surveys, focus groups, or other forms of customer feedback to get insights into their preferences and expectations. Additionally, be transparent about the reasons behind the change and communicate with your audience throughout the process to avoid any negative backlash. Remember that your logo is a crucial component of your brand identity, and a successful rebranding effort can lead to increased brand equity and financial gains.
Highlight Your Past Success To Attract Future Business
Case study examples do an excellent job of outlining the challenges, creating solutions, and providing the best results. They help you see how other businesses overcome their critical situation in order to take themselves to new heights.
It is important to understand the customer's needs in growing a small business. Hence, you should design a powerful marketing strategy, including social media to attract customers, get huge ROI, and set yourself apart from competitors in the market. However, if your leads have been declining in the decision phase, then a marketing case study may be only what you need.
Case studies are also an effective tool in content marketing. Design Alligators is a Professional PPC Services, Web Development Services for small businesses and Web Application Development Services company that can help you build a well-optimized site with the best SEO Services and design strategy. So why not reach out to it today?